Mostplay Payment Methods
Mostplay takes into account the need to make payments and therefore offers the best options for deposits and withdrawals on the website and mobile app. Bank cards, e-wallets and other payment systems can be used. Read more about each of them here:
| Method | Time | Fee | Mostplay minimum deposit | Mostplay maximum deposit | Mostplay minimum withdraw | Mostplay maximum withdraw |
| --- | --- | --- | --- | --- | --- | --- |
| Banking operations | Instant | 0% | INR 500 | INR 50,000 | INR 1,000 | INR 50,000 |
| Rupee-O | Instant | 0% | INR 500 | INR 50,000 | INR 1,000 | INR 50,000 |
| UPI | Instant | 0% | INR 500 | INR 50,000 | INR 1,000 | INR 50,000 |
| PhonePe | Instant | 0% | INR 500 | INR 50,000 | INR 1,000 | INR 50,000 |
| PayTM | Instant | 0% | INR 500 | INR 50,000 | INR 1,000 | INR 50,000 |
| IMPS | Instant | 0% | INR 500 | INR 50,000 | INR 1,000 | INR 50,000 |
| iPay | Instant | 0% | INR 500 | INR 50,000 | INR 1,000 | INR 50,000 |
Popular Deposit Methods in Mostplay
The Mostplay website and mobile app offers a large number of deposit methods. Among residents of India, the use of various kinds of e-wallets is particularly strong, which explains their advantage in the list of options. It is not only convenient, but also safe. In addition, it allows you to avoid any deposit problems. For example, when making bank transfers, there may be delays in the system work of the banks themselves. With e-wallets there are no such errors.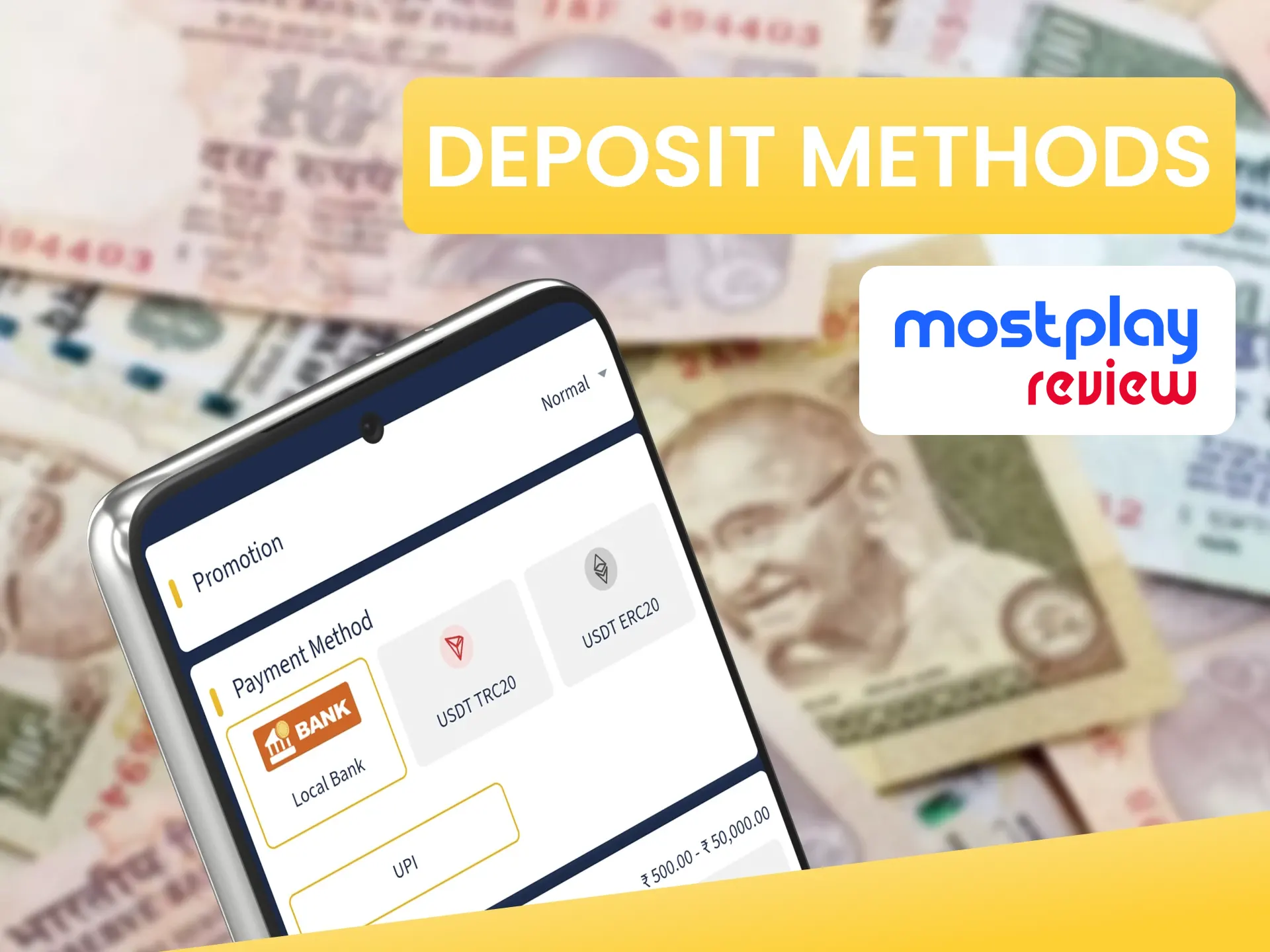 How to Deposit Money to Mostplay Account?
The deposit procedure is designed in such a way that it does not cause any difficulties for users. It can be done at any stage of using the services of the website or Mostplay mobile app. The instructions presented here will help you understand the steps in detail:
In the browser of your computer, phone or tablet, open the website of the company.
Log in to your player account. In case you are a beginner, create one. Registration will not take you much time, you just need to click the button with the appropriate inscription and fill out the registration form.
After refreshing the page, click on the "Payment transactions" button in the main menu.
Choose the method of payment.
Enter the amount and fill in the personal details of your e-wallet, payment system or bank card.
Confirm the actions and make sure that the amount is credited to your game account. In case of any time delays, not receiving the amount or receiving an incomplete amount, contact the company's support team immediately.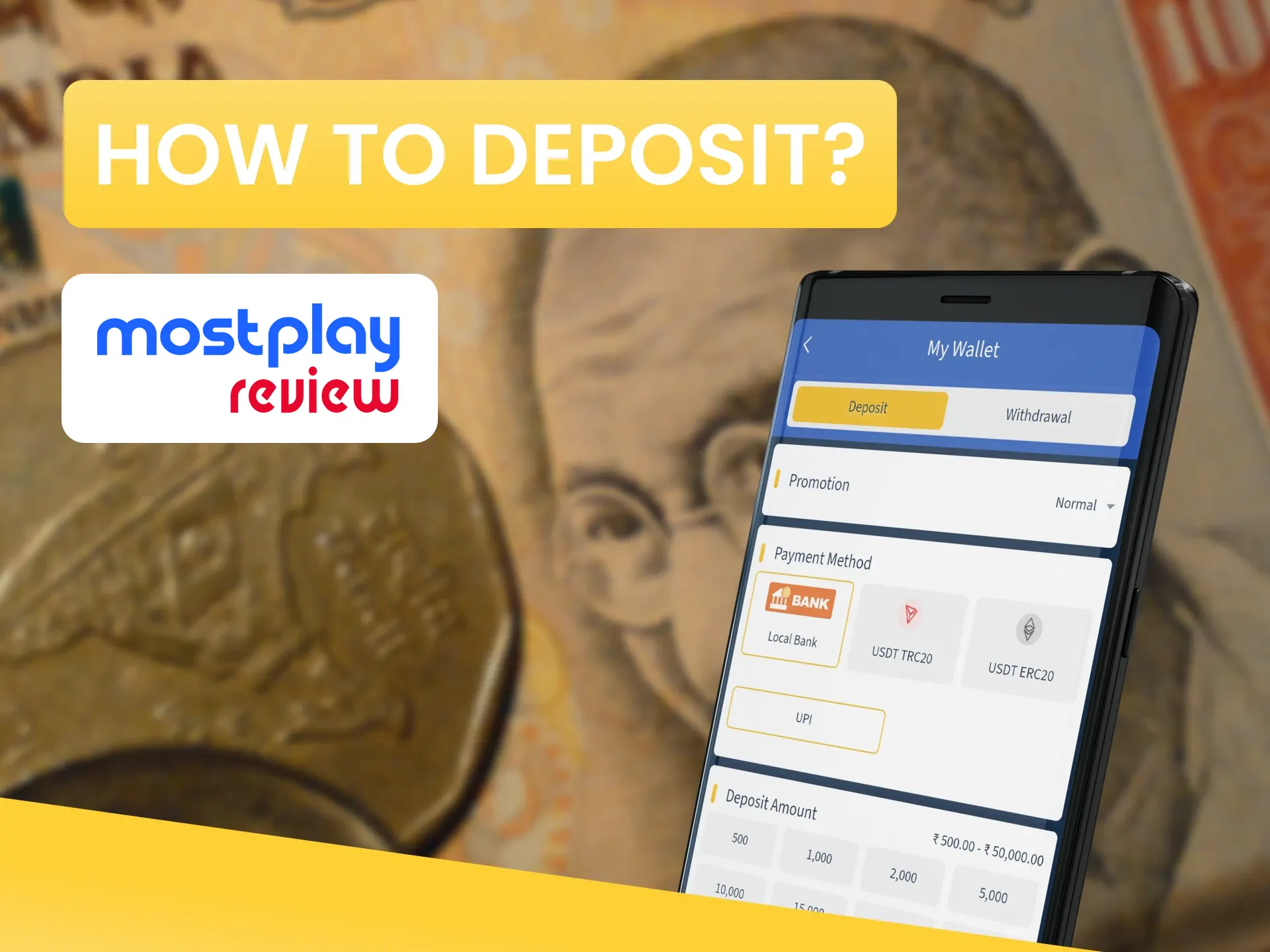 Mostplay Welcome Bonus
Mostplay offers its players lucrative bonuses and promotions. Each gift includes cash or free spins (for the casino). In addition, some of them depend directly on the payment transactions made. For example, a Mostplay welcome bonus on the first deposit. Conditions and features it has the following:
Create an account and make a first deposit of at least INR 500, after which you will receive 100% of the accruals on the amount of this deposit up to INR 20,000;
Wager 25%;
The funds gifted to you can be used in the sports betting section, including cyber sports and live format;
The bonus is valid for 7 days during which you can utilize the funds gifted to you;
Bonus is available only once.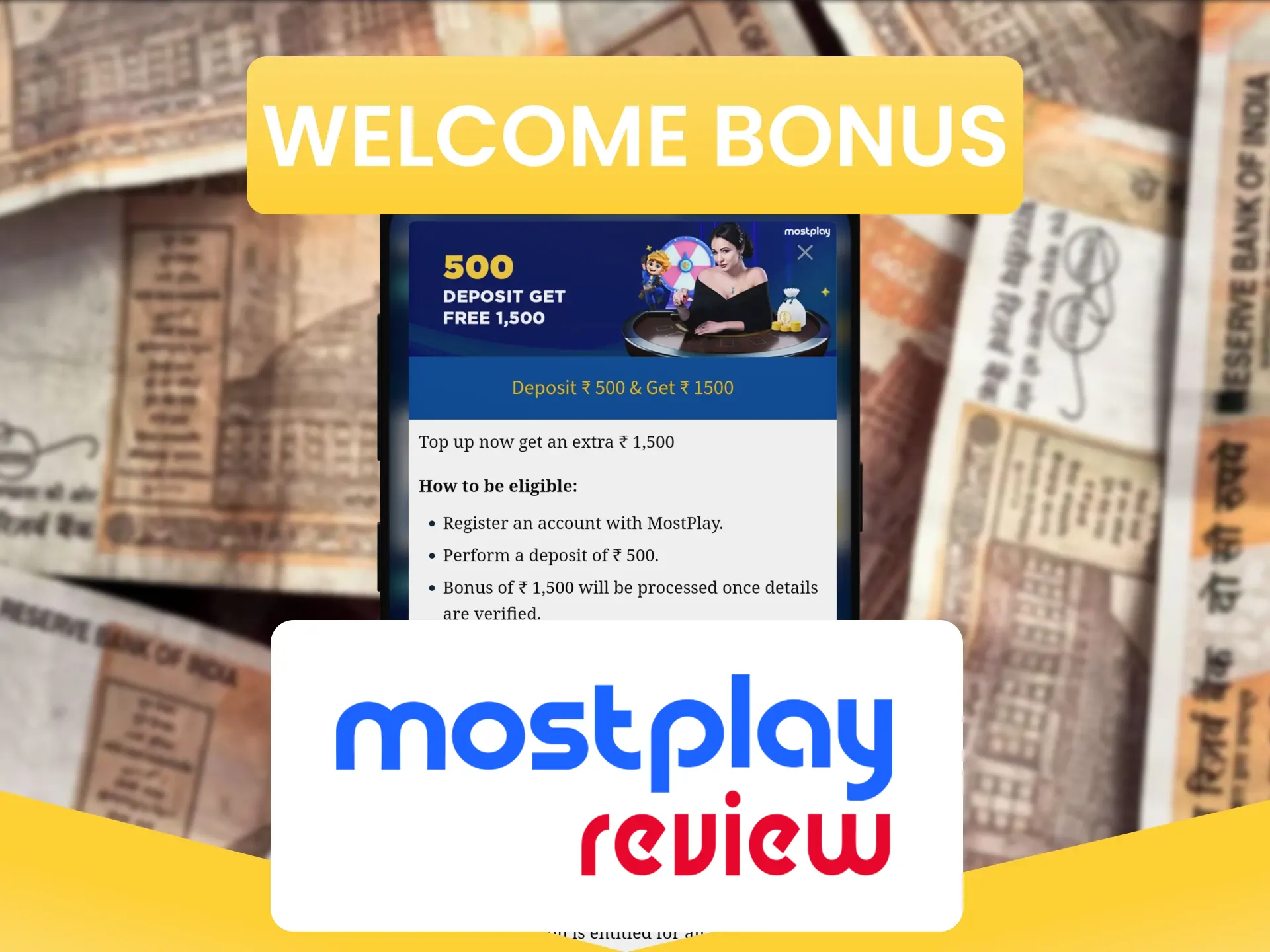 How to Cancel Payouts in Mostplay
In practice, there are cases when the deposit was made with some error: too large an amount, for example, or the wrong method of payment was chosen. Unfortunately, there is no button that cancels the deposit. Try to monitor all stages of the payment process carefully and keep track of your actions. If the problem is important to you, you can contact Mostplay support and explain the situation to them. A check will be carried out by the company's specialists, and in case they find valid errors and inaccuracies, they will help you get your money back.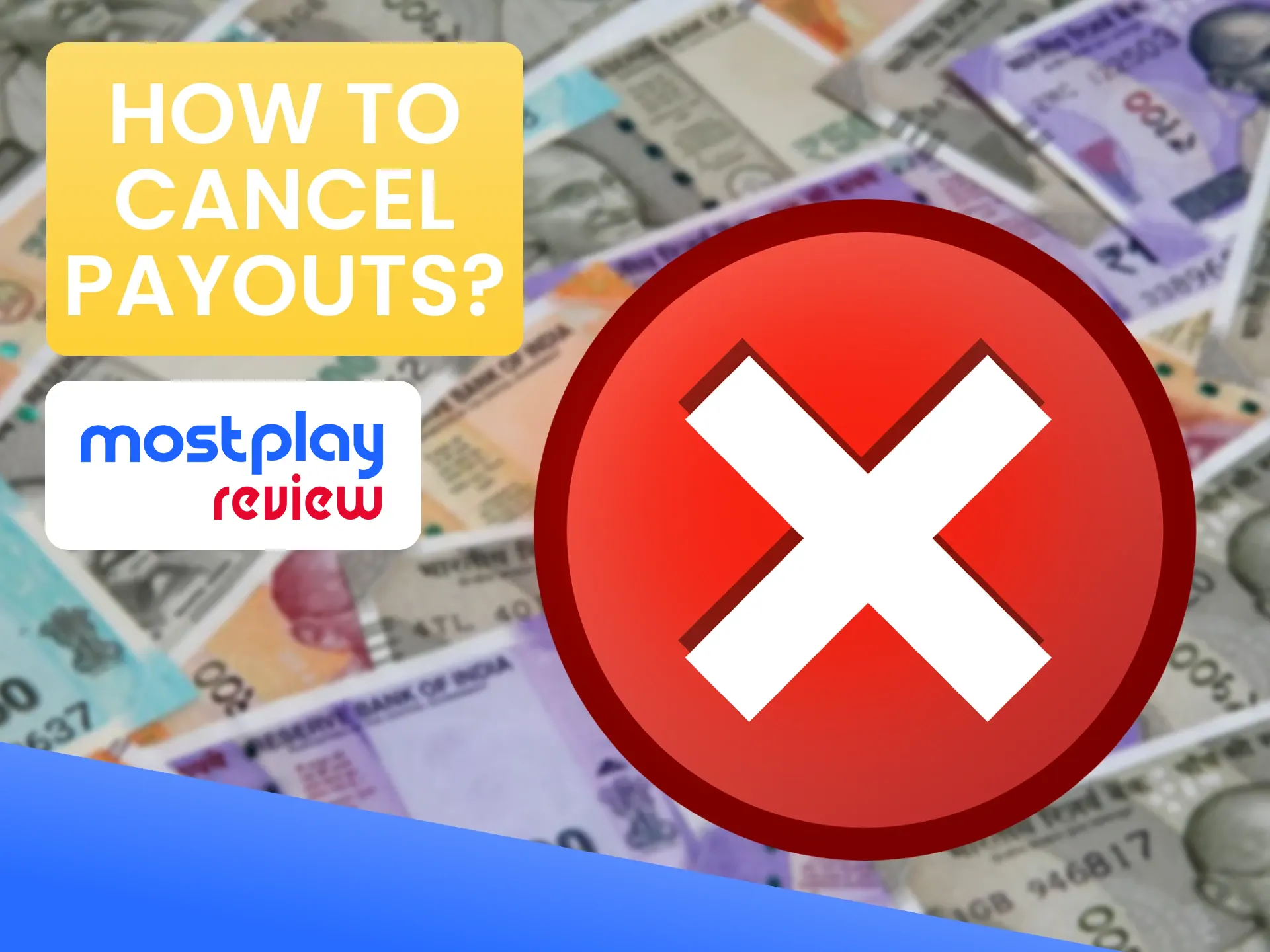 FAQ
What is the minimum deposit amount at Mostplay?

At the moment, according to the current company rules, the minimum deposit amount is INR 500.
What is the maximum deposit amount at Mostplay?

The maximum amount you can deposit into your account in one installment is INR 50,000.
Can I deposit cryptocurrency at Mostplay?

This option is not available at this time. Keep an eye out for any updates that may open such a feature.
Are there any transaction fees for deposits at Mostplay?

No, there are none. The Company does not charge any fees or commissions for making payment transactions on the website and in the app.
Do I need to pass the verification process just to make a deposit?

Yes, it's necessary. You can do it at the stage of account registration so that you do not have to return to this issue later on. When you create your game profile, you specify your email. The company will send you an email with a certain link. When you perform the actions described in the letter, the verification procedure will be completed.
Updated: